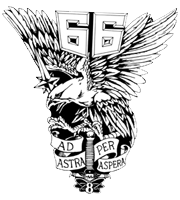 Class Website
Share your class photos or messages using hashtag #USAFA 1966 on Facebook, Twitter and Instagram!
Class of 1966 - Key Data
Appointed:

777 on Monday, June 25, 1962

Graduated:

470 on Wednesday, June 8, 1966

Commissions:

USAF-463
US Army-1
Posthumous-1
Foreign-3
Not commissioned-2

Graduation Speaker:

Harold Brown, Secretary of the Air Force

Presented Commissions:

Harold Brown, Secretary of the Air Force

Presented Diplomas:

Harold Brown, Secretary of the Air Force

Cadet Wing Commanders:

John H. Caspar (Fall); Jerrold P. Allen (Spring)

Scholarships:

Guggenheim: Borowski, Richard A., Koliner, Charles M.(also NSF); Fulbright: Bradley, Paul F., Grabe, Ronald J., Ollila, John L.; Olmsted: Elliot, Dale S., Hamm, William James, Hudspeth, William E., Swanson, John G., Van Valin, Gary A.; East-West: Reston, Russell T.; NSF: Barnard, Milton C., III, Jayne, Edward R., II, Redman, Charles E., Rottiers, Robert B., Urner, Ronald M.

All-Americans (sports):

James Murphy (Cross Country); Terry Higgins (Gymnastics); James Murphy (Outdoor Track); Mason Botts (Pistol); William Hudspeth (Pistol); Michael Kennedy (Pistol); Daniel Mclean (Swimming, 2 time)

Class Officers:

President- James M. Murphy; Scribe: Ryan Denny
Heraldry:
Class Motto: "Ad Astra Per Aspera", meaning "To The Stars Through Difficulty"
Contributions of Graduates:


Cadet Robert Dunshee Saves a drowning man while on leave in Iowa. Cadet Dunshee is presented the Air Medal for heroism by General Curtis Lemay (1964).

Neil Crist receives Jabara Award for Airmanship (1971).

Ron Grabe, Astronaut, (1981).

Charles Veach, Astronaut (1984).

John Casper, Astronaut (1985).

Paul Stein named Superintendent, USAFA (1994).

Hans Mueh named USAFA Athletic Director (2004).

Richard McConn named USAFA Distinguished Graduate (2011).

Louis Turpen inducted into Living Legends of Aviation (2013).

Richard McConn elected Chairman of the Board of the National Defense Industrial Association (2018).

Randy Jayne named USAFA Distinguished Graduate (2018).