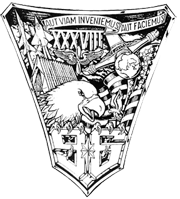 Class Website
Share your class photos or messages using hashtag #USAFA 1996 on Facebook, Twitter and Instagram!
Class of 1996 - Key Data
Appointed:

1226 on Monday, June 29, 1992

Graduated:

922 on Wednesday, May 29, 1996

Commissions:

USAF-889
US Army-4
US Navy-9
US Marine Corps-4
Foreign-10
Not commissioned-6

Graduation Speaker:

General Ronald R. Fogleman (Class of 1963), Chief of Staff,

Presented Commissions:

General Ronald R. Fogleman (Class of 1963), Chief of Staff,

Presented Diplomas:

General Ronald R. Fogleman (Class of 1963), Chief of Staff, USAF

Cadet Wing Commanders:

Parker H. Wright (Fall) Linell A. Bartholic (Spring)

Scholarships:

JFK: Bruhn, Matthew Albert, English, David Lawrence, Hook, Alan Michael, Meehan, Andrew Michael; Draper: Burba, Matthew Kyle, Coop, Andrew Ernst, Fischer, Jack David, Giustino, Antonio, Schwartz, George Nelson, Taylor, Jonathan Brett, Tilbury, Chad Allen; Gerhart: Douglas, Eve Alison; Wolfe: Hughes, James Parks; MIT: Nelson, Eric Benjamin; NSF: Birch, Paul Robert, Myers, Amanda Sue

All-Americans (sports):

Christopher Lantagle (Boxing, 4 time); Christopher A. Cullenbine (Boxing, 2 time); Zachary N. Hess, Jacob B. Oldham, Daryl V.D. Brown, Jr., Richard Greene, Michael Dee (Boxing); Eric Mack (Cross Country); Brian Rizzoli (Gymnastics, 3 time); Beau Neal (Gymnastics, 2 time); Eric Mack (Indoor Track); Eric Mack (Outdoor Track); Roberta Breyen (Rifle); Jennifer Kornacker, Michelle Truesdale, Dolly Patel (Cross Country); Jennifer Kornacker, Kristi Lowenthal ( Indoor Track); Tracy Healey (Soccer); Yiotula Chiligris (Swimming, 4 time); Robbie Kilroy (Swimming, 2 time); Meg Martin (Swimming)

Class Officers:

President: Gigi Simko; Vice President: Jenn Maceda; Secretary/Treasurer: Tim Kao; Scribe/Senator: Andi Vinyard
Heraldry:
Class Motto: Aut Viam Inveniemus Aut Faciemus (We Will Find a Way or Make One)

FLAGSignifying service to country.THE "EAGLE AND FLEDGLINGS" STATUEStatue with its inscription "Man's Flight Through Life isSustained by the Power of His Knowledge" signifying theacademic rigor of the Academy.THE AMERICAN FLAGSignifies service to country.

THE CADET CHAPELA major architectural landmark, representing the spiritual,moral, and ethical growth of cadets.

THE PROP AND WINGSThe cadet collar insignia, which signifies the military growth of cadets. It also represents alinkage with the past-the insignia of the Army Air Crops (from which the Air Force sprang wasthe Prop and Wings)

THE FRONT RANGEIn the background stands the Front Range of the Rockies, a major part of the Academyenvironment which also signifies endurance and lasting strength.
THE AIRCRAFTAn F-16 and an F-22, reminding us of the Air Force mission and totaling 38, the number of thegraduating class.
Contributions of Graduates:
John Vargas receives Jabara Award for Airmanship (2006).

Nicole Malachowski becomes first female Thunderbird Pilot (2006).

Jack Fischer, Astronaut (2009).

Ryan Davis named Dean of Business and Advanced Technology at Everett Community College, Everett, Washington (2014).

Nicole Malachowski named Executive Director of Joining Forces (2015).

Robin Wright named President of Tapestry Solutions, Inc. (2017).

Lisa Atherton named President and Chief Executive officer of Textron Systems (2017).

Gigi Simko is elected to the Board of Governors of the American College of Healthcare Executives (2018).

Rodney Bullard, Vice President of Community Affairs at Chick-fil-A Inc., is elected to the Board of Directors of Fidelity Bank in Atlanta, GA (2018).

Nicole Malchowski is inducted into the National Women's Hall of Fame (2019).