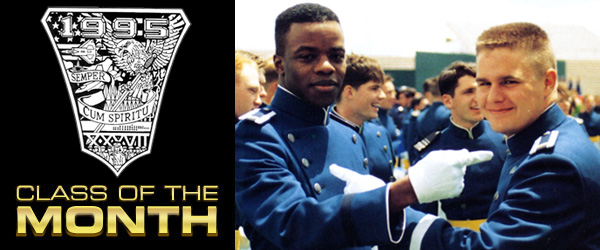 Class of the Month: 1995
Every month we will recognize a featured class online, highlighting the accomplishments and catching up with where they are now.
This month we are celebrating the Class of 1995!



The Class of 1995 celebrated their 20th reunion last month. Share your reunion photos using hashtag #usafa1995 or #ktp95 on Facebook, Instagram, and Twitter!



What They've Done: 17 CEO/VPs, 14 Medical or Legal, 22 Airline Professionals, and 1 astronaut.



Giving Back: 752 AOG Members,
11 Sabre Society Members
over $277K Lifetime Giving
1995 Award Statistics:
Rhodes Scholars - 1
Dist. Service Medal - 1
Silver Star - 2
Dist. Flying Cross - 3
Kjell Lindgren, a Class of 1995 grad and astronaut, took this photo of the Class of '95 spirit mission from space!
It's my honor and privilege to share the banquet greeting Kjell sent down for us. It is a beautiful tribute to our USAFA Class of 1995, through and through. Keep The Pride '95 #KTP95 #USAFA95

Posted by Tara Sweeney on Saturday, September 12, 2015
Keep the Pride, '95!

Wings of Blue jumpers are all ready for the football game versus San Jose State tonight at 8:15pm! USAFA Class of 1995 put out a special message on the parade field for former Wings of Blue member Kjell Lindgren, who currently resides on the International Space Station.-503

Posted by USAF Parachute Team - Wings of Blue on Saturday, September 12, 2015
Class of 1995 Links



Members and families of the Class of '95 were able to participate in a live interview with Class of '95 graduate and astronaut Kjell Lindgren from his current assignment in the International Space Station. View photos.
Next Class
If you would like your class to be highlighted as the Class of the Month in the future, send us an email with class news or projects that you'd like to have showcased.
People have asked "How do you choose the class of the month?", and your class involvement with the AOG and USAFA Endowment really helps determine what projects we feature at a given time. Grads in the news can also impact what class content gets showcased from month to month.