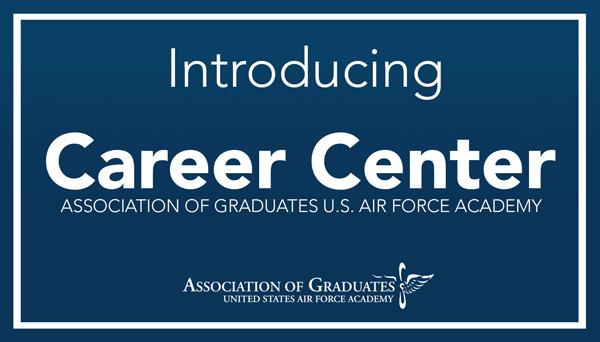 Your alumni association is proud to offer you access to our new online career services and alumni mentoring portal – AOG Career Center!
We've already created an account for you! To access it, click here, then follow the instructions below:
Select the "Reset My Password" link
Enter your username, which is USAFA and your AOG ID Number (e.g. USAFA######)
"Go" to set your new password and log in
This portal allows you to connect to employers and fellow alumni for professional networking and job seeking opportunities. The AOG Career Center is designed to be your gateway to your fellow graduates, employers, and career resources.
If you have any questions or concerns about accessing your account, please email careers@aogusafa.org.


---
The Association of Graduates is dedicated to helping graduates of the U.S. Air Force Academy connect to resources which will help them continue on a successful career path, which began with dedication to serving our country.

Employers
Alumni Mentorship Program
Join the AOG Career Center's Alumni Network to get started! Mentors can teach from your experience and ease life transitions for your fellow alumni. Protégés can learn from fellow alumni who have already walked a similar path in the military or in business.
Networking is your key to many opportunities. Mentoring is your way to give back. Start connecting today!

■ Become a Mentor – Complete your Alumni Network Profile inside the "Networking & Mentoring" tab, in order to be found by potential protégés.

■ Become a Protégé – Complete your Alumni Network Profile inside the "Networking & Mentoring" tab and search for a Mentor by career field, job title, work experience, academic background, and more. Once you have found someone you would like to connect to, Click the "Contact" button at the bottom of their profile to send them a secure, personal message.

■ Do both! Mentor and be mentored at the same time – a great way to strengthen your alumni connection and business network!


---
---
Meet your AOG Career Coach!
Beth Wade
My coaching method: Collaborative and goal-oriented
Coaching is not about getting you a job, rather helping you identify and take the right steps to get from point A to point B in the easiest way possible.
How I can serve you: Self-assessment, goal-setting, job search preparation, accountability, connections to industry professionals.
My role at the Association of Graduates: I have been with the AOG since 2011 and began managing AOG career programs in 2013, serving as the liaison for the AOG's joint career program Board of Directors, along with representatives of each of our sister service academies.
Why I love my job: I am a problem-solver and connector of people. Serving veterans is my passion and my way of saying thank you to those who have served our country. As a volunteer mentor for veterans in all stages of their careers over the last 5 years, I have worked with hundreds of transitioning veterans in the areas of career aptitude assessment, education pursuits, business networking, Linked In and resume development, job fair preparation, and other unique needs of service members moving into the civilian workforce.
To increase my ability to serve those who have served, I recently obtained my career coaching certificate from the National Association of Colleges and Employers, the national governing organization for alumni career program development. Currently, I am working on certifications to be a practitioner for the Myers-Briggs Type Indicator and Strong Interest Inventory career assessments, in order to better assist alumni in navigating career transitions.
Education: My marketing and sales degree (Bradley University) allows me to coach job-seekers in a creative way – helping you strengthen your presence in the job market and sell yourself as a valuable candidate, so employers can fully understand what you bring to the table as an entire person, not just a set of skills on a resume.
Work Experience: I began my career with Caterpillar, Inc. and subsequently found myself laid off in the wake of the 2009 economic downturn. Having experienced a long period of full-time job searching, I have immense empathy for those who are currently in the search. Career transitions trigger many emotions – both positive and negative. It is my resolve to continue building a career program for Air Force Academy graduates that will provide innovative resources and guidance to make that transition as uncomplicated and successful as possible.  


---
Important Notice to U.S. Air Force Academy Graduates: The iSABRD platform is no longer supported by your Association of Graduates or the Joint Service Academy initiative.